ASDA Walmartone UK.
How do I log in to the Walmartone Asda UK Colleagues Website?
How do I reset a forgotten ASDA Walmartone password?
How do I view my Walmartone ASDA Payslips on ASDA Total Package?
Sign in to the ASDA Walmart One UK website to view your ASDA rota, book your employee holidays see your ASDA Walmartone payslips, and learn about your ASDA Colleagues employee benefits/discounts.
ASDA.Walmartone.com.
The official  ASDA Walmartone UK website a https://Asda.walmartone.com has been moved to the new One.Walmartone.com portal, which now serves as the login platform for both US associates and UK employees. Make sure that you update your bookmarks as the https://Asda.walmartone.com website (with https:// in front) now resolves in a timed-out error message.
How do I log in to ASDA Walmartone?
You can still type in Asda.walmartone.com in your browser manually, and you will be redirected to the new OneWalmart login page.
The new UK Walmartone ASDA login page is now found here: https://one.walmart.com/content/asda-wm1/en_us/public.html.
Click on the Home Icon in the top left cornet or the Login link in the top right hand corner to be taken to the new login page.
Both the UK and USA OneWalmart portals will eventually lead you to the SAME login page.
To log in, enter your WalmartOne User ID and password.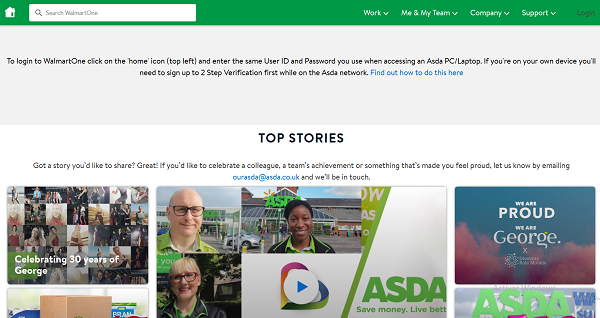 I have Lost/Forgotten my ASDA Walmartone UK Password.
I have forgotten my ASDA Walmart One password. How do I recover it?
If you are a ASDA employee and you have forgotten your ASDA WalmartOne UK password, there is no longer an online option to reset your password.
Instead, contact ASDA Human Resources, o the Human Resources Shared Services (HRSS). You can contact them on 0113 291 9000 or on the email address [email protected].
If you are a US Walmart associate, and you cannot remember your username and password,  then contact Field Support at 41-79-273-4357.
How do I Log in to the Asda Total Package Benefits website?
To log in to the ASDA Total Package benefit health plan site, visit https://www.asdatotalpackage.co.uk/.
Then, enter your Walmart Number and Password.
How do I view my Walmartone ASDA Payslips?
Hourly paid ASDA colleagues, can access online payslip via the ASDA Intranet at https://www.asdatotalpackage.co.uk/.
Salaried ASDA colleague, can access access the ASDA Total Package portal from the pay day.  New colleagues should visit https://www.asdatotalpackage.co.uk/new_joiner and complete the form below on pay day and ASDA will email you instructions on creating a passcode.
If you are not sure what your official Walmart Number is, then contact the HRSS team on 0113 291 9000.